"International protocol is an essential education and skill for global companies to network."


-The InterCultural Protocol Academy of Japan- Director: Mari Cecilia Murata-
The International Protocol Academy ICPA (Tokyo, Director: Mari Murata Cecilia), run by ICPA Int' Protocol Co.,Ltd. conducted International Protocol Executive Training for Misato Toyoda, President of Toyoda Trike Corporation, Hiroyuki Toyoda, Vice President of Toyoda Trike Corporation, and Ansem Wong, President of Asia Development Capital Corporation in June 2022.
The Intercultural Protocol Academy – ICPA is the only Japanese school to receive exclusive international accreditation from the Leading Etiquette and Protocol Schools of the World, the world's leading association of protocol executives. The school is also affiliated with The English Manner, a school founded by a former member of the British Royal Family. ICPA offers a new form of teaching and instruction in global skills, including the international protocols that global leaders should acquire in order to become top-class professionals.
Feedback from the participants of this training course
I thought it was absolutely essential for companies with a global presence aiming to become a top-tier company.
I felt that it was a must skill to acquire if you are a company executive.
I realised that in today's global society it is necessary to understand the differences between Japan and the rest of the world, and to behave and think in a way that is appropriate for the other person.
I learned that understanding the basis rather than the way of doing is necessary, and that knowledge can be acquired through practice.
I had the opportunity to meet the Malaysian Prime Minister and the Thai Royal Family, and I felt unsure of how I should behave in those situations, and thought that when conducting diplomacy as a company, not knowing anything can be fatal.
I am now convinced that having international standards of behaviour, knowledge and thinking is of paramount importance when doing business with China.
In this article, we will discuss how this international protocol officer training…
-How it started
-What contents
-What achievements it has brought about.
Enquiry
Initially, we received applications for online interviews for the general public.
Pre-training meeting
We received an application for an online interview for the general public, but as we realised that the future of the company was at stake, we immediately prepared a proposal, brought it with us and visited the company at the appointed date and time.
President Anthem Wong is a global leader and had clear objectives and wishes for the course. Conversation was lively and the meeting was concluded in one hour.
This time, in order to be able to meet Mr Toyoda's upcoming business trip to China, we made a proposal for an irregular special training course with a tight schedule before he left the country, and the contract was signed immediately the next day.
In this way, The InterCultural Protocol Academy of Japan – ICPA is able to flexibly and flexibly adjust the training schedule etc. according to the purpose of the course, demands and speed.
Training Preparation
This time, prioritising Mr. Toyoda's desire to have the training in time for his business trip to China, we shortened the preparation period, which normally takes one month, to two weeks and adjusted other schedules to accommodate his request.
Training Hours
ICPA's executive and corporate training courses are based on 30, 60 and 120 hour courses.
Training Contents
After carefully listening to and verifying the client company's objectives during the pre-training meeting, the training content is strictly selected and combined from a variety of topics as follows.
International protocol basics
The importance of protocol
Behaviour
Dress code
International etiquette and protocol
Basic guest etiquette
Basic body language
Full course table manners
Image
Dressing for the occasion
Basic of State Guests' Entertainment
Training 1 day International Protocol Basics
Start to fulfil the company's objectives
'Making the impossible possible. Transforming the future of companies and people."
This International Protocol training started with these words. The following are excerpts from the lecturer's ( Principal Murata's) remarks on the training.
―――
It is dangerous to assume that you know everything, because you will not learn anything. It is crucial to be aware that you do not know.
You find out that you actually didn't know as much as you thought you did. Take our examinations and you will see exactly what you are capable of. The worst learners are those who pretend that they know.
It is also an important part of character, culture and behaviour as an executive in a company not to be overconfident that 'I know everything without having to learn it', but to be wise enough to say with dignity that 'there are things I do not know'.
In International Etiquette and Protocol classes, students learn not only the international culture, but also the ancient languages in order to understand the way of thinking. The 'learning' from the three ancient scholars is enormous.
The wisest of them all is the saying 'I know nothing'. Socrates. The stupidest ones state that 'I know everything'. Many modern-day people.
Simply deciding to attend this training course is a step forward. The value of a man is not only determined by his ostensible status. It is how you behave that counts.
Corporate training exists to fulfil the company's purpose. People spend a great deal of time on training because they wish to achieve a change. The key to success is the degree to which the participants understand their own business and share their own objectives.
Time is life. It is not money. You are sitting here with your precious lives at stake.
―――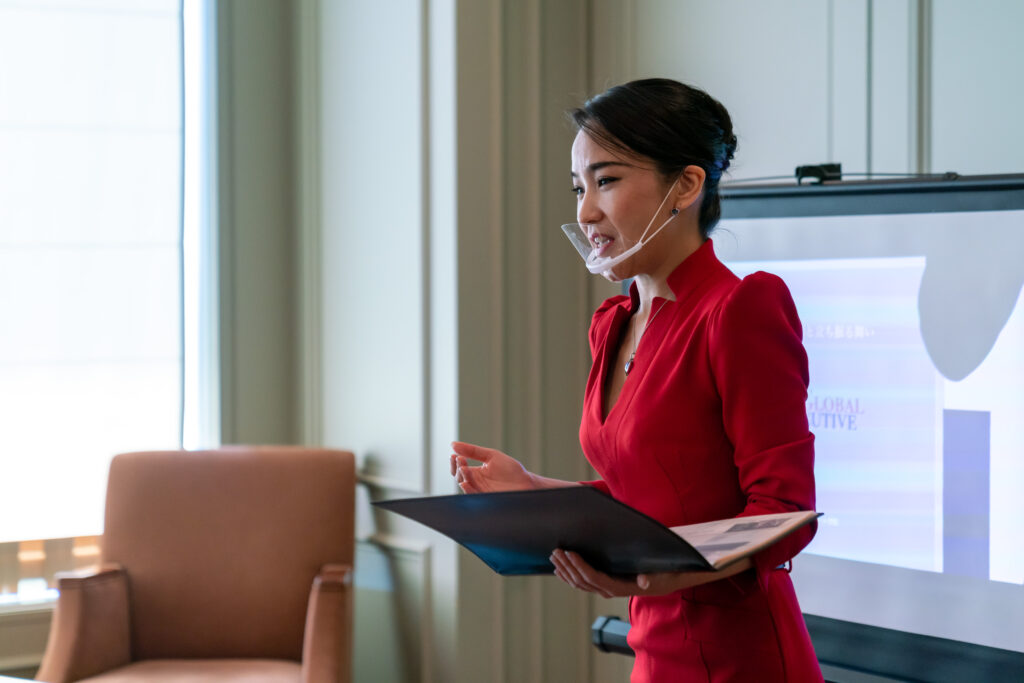 The lecture was about the importance of how each individual could make a difference not only to the company but also to his or her own life.
The lecture also included brain science and the emotions that people have when they purchase something.
―――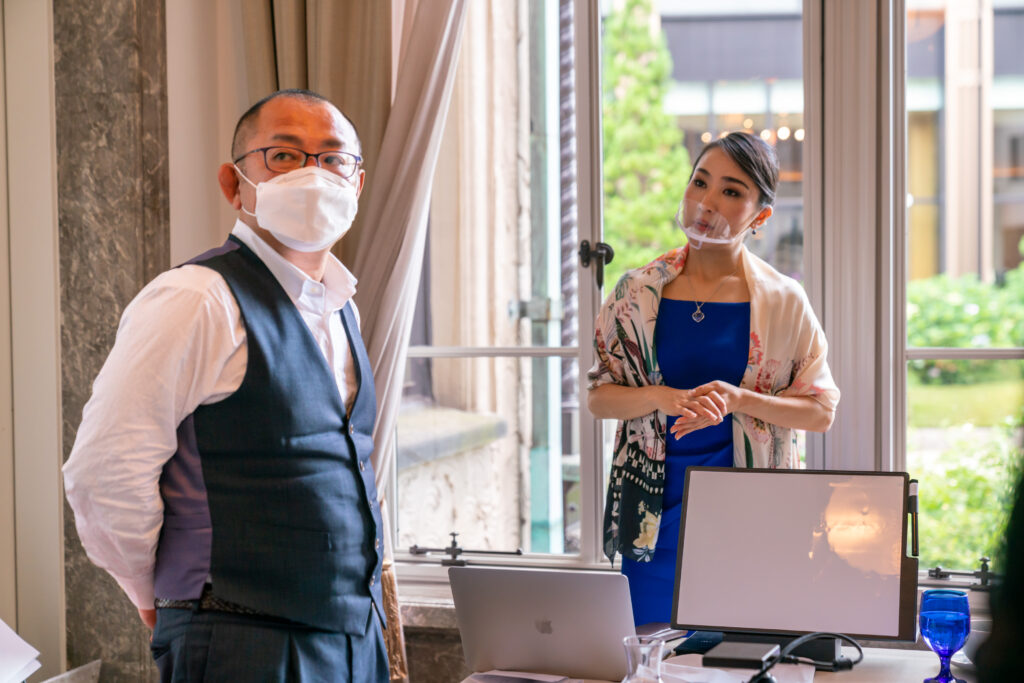 International Protocol is more than just etiquette lessons. It is an important network management tool to connect a company organisation. It is synonymous with the computer term 'protocol'. International Protocol is an essential tool for networking.
―――
Days 2 to 5 International protocol, culture and business
The programme included a look at the differences in cultural structures between Japan and the rest of the world, international protocol in terms of greetings, introductions and handshakes, why they are done the way they are, sitting positions and the practical science and brain science that goes with them.
The students were also asked to dress up for the table manners section.
―――
In diplomacy and business, table etiquette is also a matter of tactics. It is not only how you behave, but also the politics of business and diplomacy. It's the perfect time to pick up on statements, express yourself and deepen relationships.
It is best to assume that your culture is not used to such a situation.
―――
Table etiquette in England, France, the Continent and the USA was also introduced.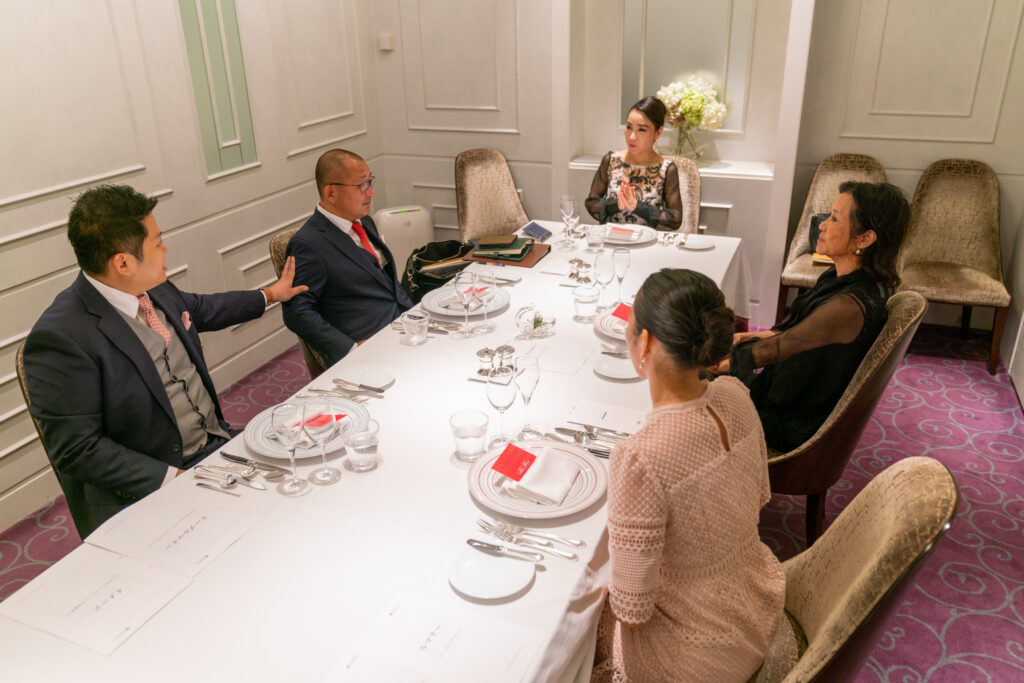 The daily transformation of the participants
The difference between the first day and the last day of the course was a marked change in the ambience and the verbal behaviour of the participants. The difference is obvious and can be seen in the video above.
The invisible aspects of understanding how to behave, how to think, how to dress, etc., the various knowledge naves, and the techniques to put the knowledge into practice are all very important. The importance of these things was also emphasised.
Actual training scene

Brain science and psychology

村田セシリア真理ICPA学院長

Change of venue

How to walk and other standing behaviours

How to sit

Social and business handshakes

Business handshake

Role play

Why greetings are important

アンセム・ウォン氏

Dress code

Diplomacy

Table manners

Seating rules

The art of table manners

Meaning of hand positions

Conversation

As a means of diplomacy

How to make a toast

Cutlery

How to walk, stand, pose, etc.
Feedback after training
International protocol used on business trip to China
"we will report back to you from China!"
After completing the course, the two Toyotas left for China with the bare minimum of essentials, including a few small items. On arrival, they were greeted by the Chinese government and received a first-class welcome with fireworks, concerts and lion dances, which they reported to our video call.
They said that they had a clear understanding of 'why we do this' and had put it into practice in many areas, such as executive behaviour, dress, the position of the hands and how to greet people.
We were very impressed when we heard that they had received a great welcome in China. We are confident that the lessons learnt will be used to develop the company into an ultra-global company and expand its activities to achieve even greater success.
Persistence is Power
'International protocol can be learnt once.' It is not such an easy subject to learn. As with any learning, if you don't continue, you will soon forget and revert to your old ways.
We hope that Mrs Toyota and her colleagues will continue to learn.
If you feel like you are returning to your old ways, it is a sign that you have not learnt enough. It still takes three years for it to become a habit.
You should not rely on books or information on the internet.
Some people try to learn about etiquette and protocol by collecting information from books and the internet.
However, in this way, you will inevitably make your own judgment of what is necessary and unnecessary, and you will not be able to reach the background and meaning of what you really need to learn, and you will not be able to fully understand the reason why you are learning it. This is not a way of learning, nor does it lead to self-belief.
Comments from participants we have received so far
Without the coaching of Mrs. Murata, I couldn't have made it this far!
She is totally different from other teachers!
She is a serious mentor who can really change you!
Summary
It is very important for company leaders, executives and executive candidates to 'be authentic'.
The ICPA's training courses enable you to realise this once again, and to learn the knowledge, culture and skills that are essential for corporate executives.
The InterCultural Protocol Academy of Japan- ICPA offers corporate training, instructor training and personal coaching in global communication both in Japan and overseas.
We also offer courses for interviews and trial sessions, so please do not hesitate to contact us for more information.
We look forward to hearing from companies and individuals who have expressed an interest in international protocol.
Corporate Training
Press release
https://prtimes.jp/main/html/rd/p/000000012.000046513.htmlICPA
ICPA Int' Protocol Co.,Ltd Press Release